DeMolay University
February 07, 2015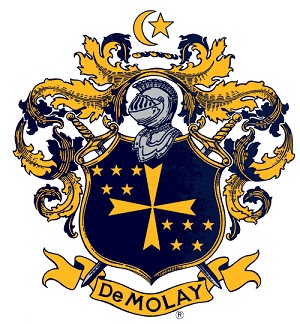 DeMolay University had to be cancelled today, March 1st due to the weather. Any information about rescheduling will be announced later.
DeMolay University is less than a month away so here is what you can expect for the program this year.
It will be held March 1st at 32 Society Rd in Niantic from 2-6 PM. There will be a slight departure from classes held in years past in the sense that we wil be delving more into DeMolay-specfiic topics rather than life skills. We…
---
Super Bowl XLIX
sponsored by Edward W. Slade Chapter
February 01, 2015

Edward W. Slade Chapter thanks everyone who attended and brought food to the Super Bowl Party on Sunday, February 1, 2015.
The party had something for everyone. Whether you liked the home team, New England Patriots, the Seattle Seahwaks, or if you did not like football at all. People came to watch the commercials, the halftime show, play cards, socailize, play video games and Magic the Gathering.
There was definitely a favorite team in the room, as the room was very quiet when…
---
Chevalier Investiture - Jason Ferenczy
January 31, 2015
On Saturday January 31, 2015, Brother Jason Ferenczy was invested with the Degree of Chevalier. Jason has proven to be a great leader, not only of Doric Chapter, where he is Master Councilor, for the second time, but of Connecticut DeMolay, having attained the office of State Senior Councilor. Jason was also a staff participant at Region 1 LTC, a position rarely offered to active DeMolays.
The degree team was comprised of Chevaliers that played a role in Jason's DeMolay career, thus fa…
---
7+ 7 = 10 Degree!
By Michael Gendreau, SOaL
January 29, 2015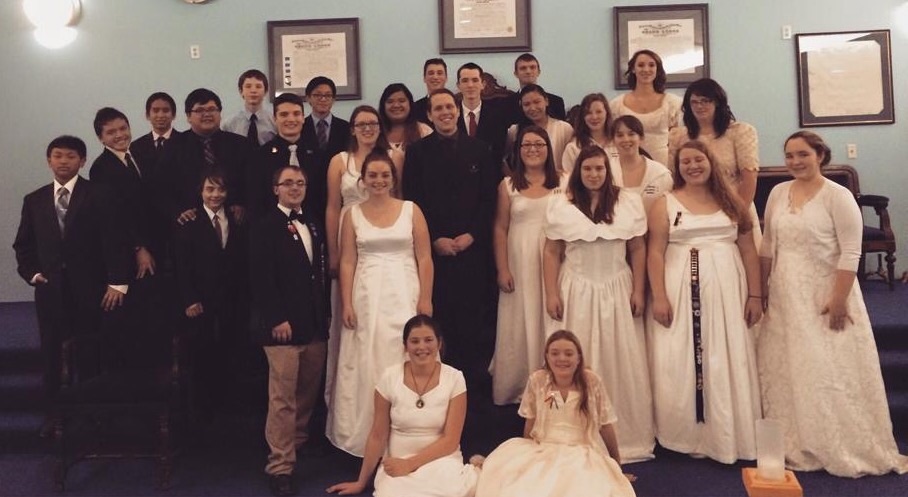 On Thursday, Janurary 29th, The members of Nathan Hale Chapter and New Britian Assembly #6 went to Unity Lodge #148 to put on the wonderful ceremony that DeMolay and Rainbow share. The 7 + 7 = 10 Degree explains the virtues that both DeMolay and Rainbow go by. This degree was put on for the members of the 5th Masonic District for it was their Blue Lodge Council meeting. There was a lot of practice before this to really make sure this degree was perfect. When the time came after dinner, t…
---
Nathan Hale Installation
January 25, 2015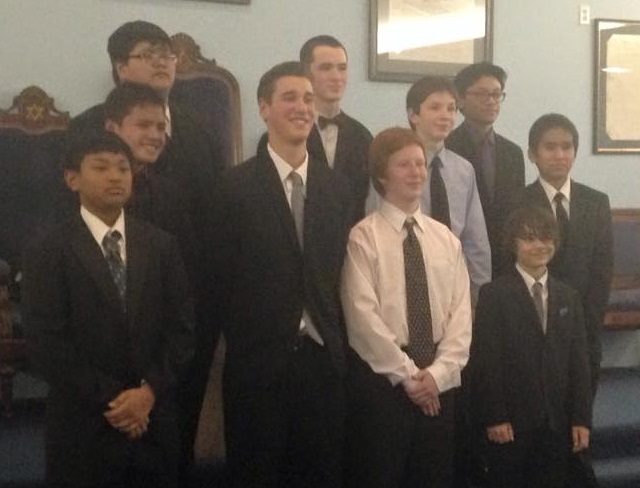 On January 25th, the Officers of Nathan Hale Chapter were installed. This, however, was no ordinary Installation of Officers, as the officers of Meriden Assembly #11 were installed simultaneously. The reason for this was Brother Evan Ruszczyk and his twin sister, Morgan, wanted their installations as Master Councilor and Worthy Advisor to be a joint adventure for DeMolay and Rainbow. While the room was set up differently than for a normal installation the evening was still a great…
---
2015 Paul R. Kach Essay Contest
January 19, 2015
DeMolay International would like to announce the 2015 Kach Essay Theme! "100 More Years of Frank S. Land's Vision"
Enter the 2015 Scottish Rite, Paul R. Kach Essay Competition and share your thoughts and ideas on the theme: "100 Years More of Frank S. Land's Vision"

All essays must be received by your Executive Officer not later than April 1, 2015. Region Representatives will establish an impartial judging panel for the purpose of determining region winners. Go here to view t…
Upcoming Events
Master Ritualist Program
July 14, 2014 to July 10, 2015

At Conclave, State Master Councilor, Nicholas Carpenter, unveiled the Master Ritualist Program. Over the past few months, he has worked tirelessly with the Executive Staff and State Suite to finalize the details of the program and it is now ready to be put into action.
The goal of the Master Ritualist program is to assist all members in improving the ritual they know and to encourage them to learn new ritual parts.
The Master Ritualist Program has three levels:
Level 1...
Read more...
---
Traveling Gavel
February 10, 2015 to April 30, 2015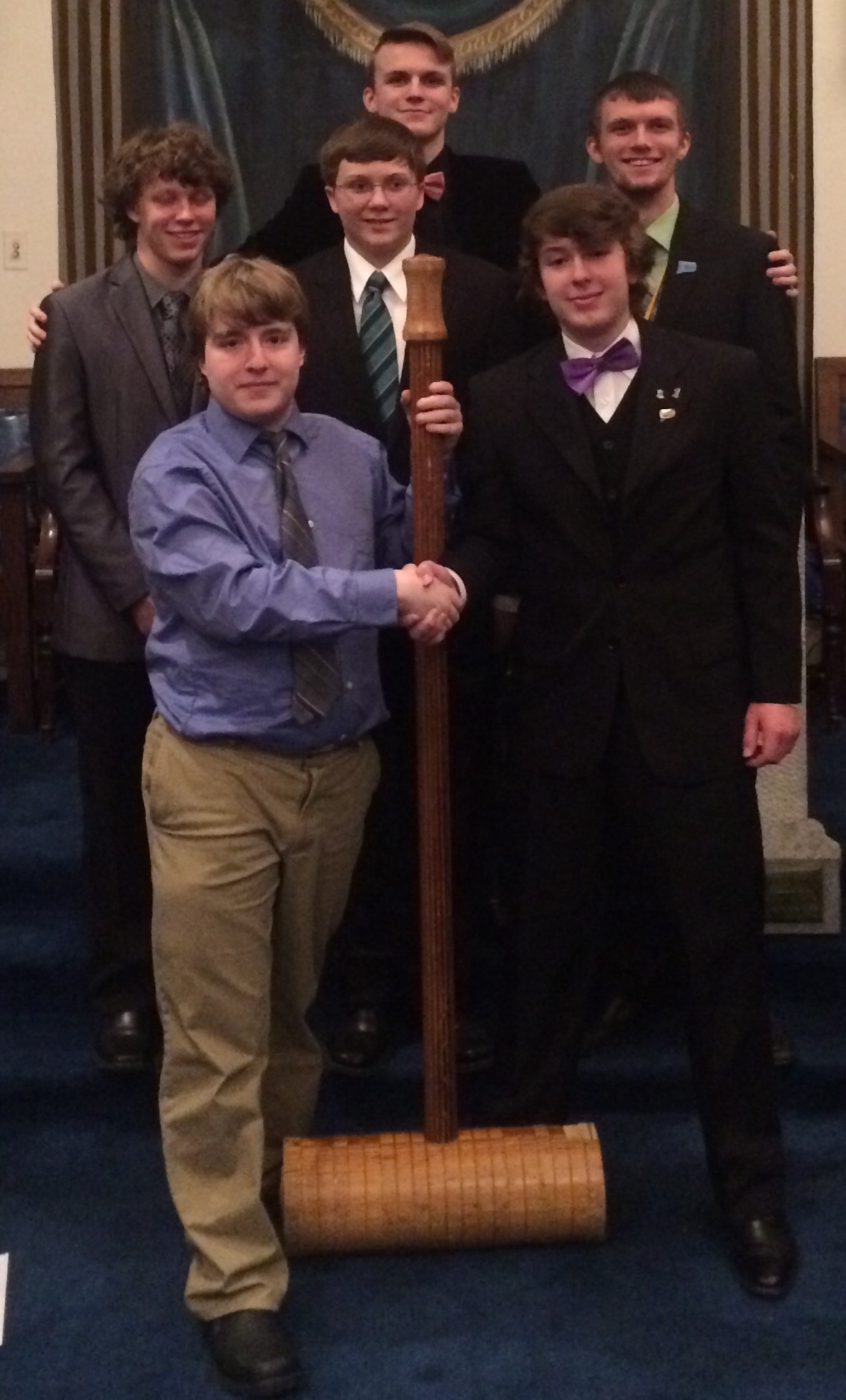 The Traveling Gavel is now with The Rampaging Snails of Sleeping Giant Chapter.
If your chapter would like to claim the gavel, bring 5 chapter members to a stated meeting for a visitation.
30 Church Street
North Haven, CT 06473
2nd & 4th Tuesdays

Read more...
---
March 2 Success
March 01, 2015 to February 01, 2016
Helping Members Succeed!
How well a person does on a standardized test can have a great impact on their future. March 2 Success was developed as a free, no obligation tool to help anyone improve their test scores in the areas of English, Math and Science. March-2-Success is designed for a current or recently graduated high school student who wants to do better on standardized tests such as SAT, ACT, and the ASVAB.
The Army has made this program available to members...
Read more...