Legion of Honor Investiture - Kirk C. Trofatter, Jr
May 11, 2016

Everyone is invited to join New Haven Chapter and the Connecticut State Chapter as we witness and celebrate the Investiture of the Active Legion of Honor upon Dad and Brother Kirk C. Trofatter, Jr, on Saturday, May 14, 2016 at the New Haven Masonic Building at 4pm.
Dad Trofatter has been an active supporter of DeMolay on the jurisdictional level for Connecticut as well as a leader in New Haven Chapter, having served New Haven Chapter as both Master Councilor and as Chapter Advisor. In hi…
---
Golf Tournament
May 10, 2016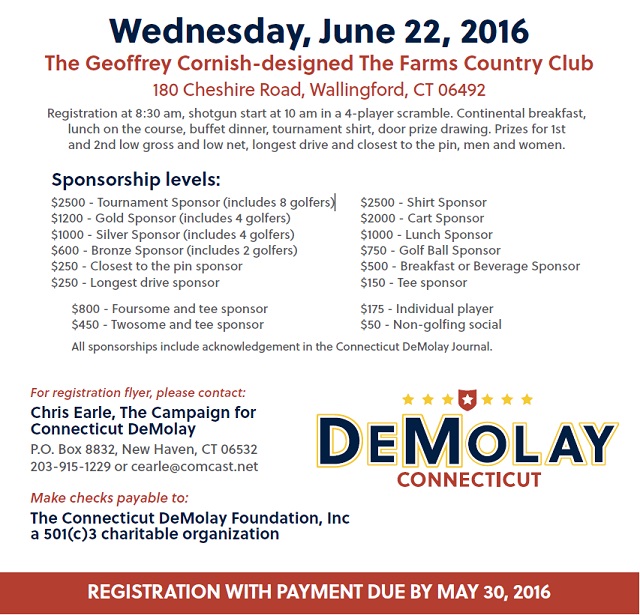 ---
86th Annual Conclave
May 09, 2016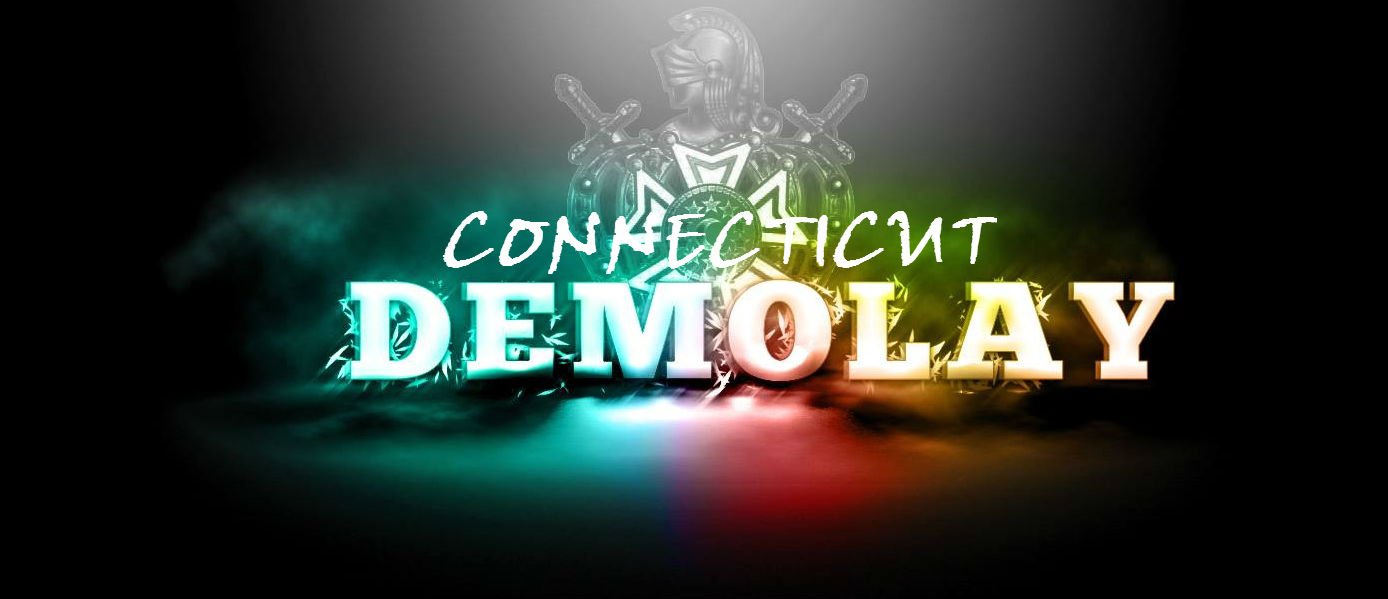 The EXCITEMENT of CONCLAVE is already building. Conclave is the capstone of the DeMolay Year. The State Master Councilor would like to beat all previous attendance records. Only you, your chapter members, and recruits can make this happen. The SMC has worked tirelessly to be a leader and friend to every chapter. Support him as he completes his term on a high note.
Please select the appropriate form below:
Chapter Advisors, pleas…
---
Paul Revere Chapter Progressing
April 16, 2016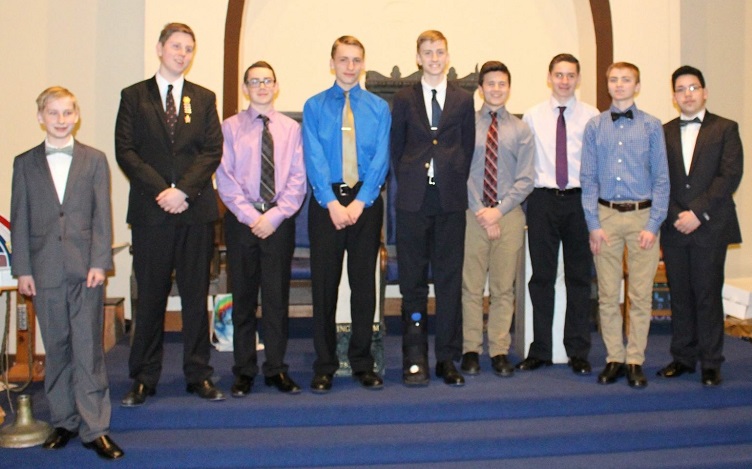 On Saturday, April 16, 2016 at 7:30pm, Paul Revere Chapter held their first Installation of Officers at the Masonic Lodge Building in Shelton. Tristan McDonough has been installed as the first Master Councilor. Deputy State Master Councilor, Zachary Aubin performed quite well as the Installing Officer. 9 Officers were installed, an excellent feat for a Chapter that just began last July and is not yet Chartered - which should be happening in the coming months. The Worshipful Master of…
---
Mom Cecelia Evangelista 1964-2016
April 14, 2016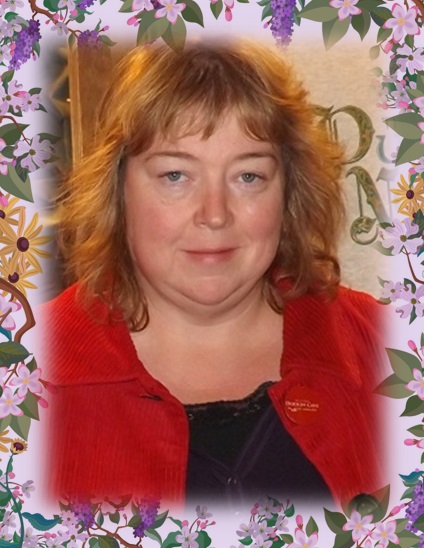 It is with sadness that I inform you of the passing of Mom Cecelia Evangelista, of Sleeping Giant Chapter. Mom Evangelista became involved with DeMolay when her son Paul, (PSMC) joined DeMolay. She worked tirelessly for the chapter and the state and was dedicated to making her son the success he was. Words cannot do justice for the people she impacted, the ideas she came up with, and the lives she touched as an advisor and mother.
When a person becomes an advisor…
Upcoming Events
Traveling Gavel
January 12, 2016 to June 01, 2016
The Traveling Gavel is now with Paul Revere Chapter.
If your chapter would like to claim the gavel, bring 5 chapter members to a stated meeting for a visitation.
419 Coram Avenue
Shelton, CT 06484
2nd & 4th Tuesdays
---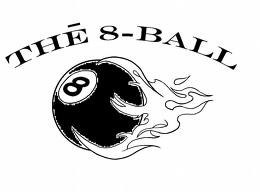 The Traveling 8-Ball has been delivered to Robert H. Heller Chapter.
To get rid of the Traveling 8-Ball, the Chapter with it, in their possession, needs to bring 5 Chapter members to a stated meeting of another Chapter for a...
Read more...
---
Conclave 2016
July 08, 2016 to July 10, 2016
Read more...
---
March 2 Success
July 11, 2016 to April 30, 2017
Helping Members Succeed!
How well a person does on a standardized test can have a great impact on their future. March 2 Success was developed as a free, no obligation tool to help anyone improve their test scores in the areas of English, Math and Science. March-2-Success is designed for a current or recently graduated high school student who wants to do better on standardized tests such as SAT, ACT, and the ASVAB.
The Army has made this program available to members...
Read more...