Brotherhood Weekend is HERE!!
October 17-19, 2014
October 17, 2014


The official announcement is here.

Join the SMC and the State Suite Officers for a weekend of fun, food and fellowship.

October 17-19, 2014, Camp Hazen, Chester, CT
---
Master Ritualist Program
By Andrew Birdsall
October 12, 2014


At Conclave, State Master Councilor, Nicholas Carpenter, unveiled the Master Ritualist Program. Over the past few months, he has worked tirelessly with the Executive Staff and State Suite to finalize the details of the program and it is now ready to be put into action.
The goal of the Master Ritualist program is to assist all members in improving the ritual they know and to encourage them to learn new ritual parts.
The Master Ritualist Program has three levels:
Level 1 - Junior Ri…
---
New Haven Chapter Installed
October 12, 2014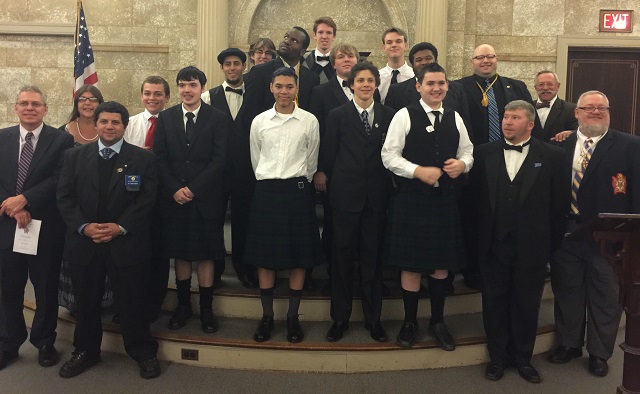 Sunday evening, October 12th, The Officers of New Haven Chapter (Connecticut DeMolay's oldest, active Chapter) were installed. John Doty took the reigns as Master Councilor. The Chapter officers were installed while proudly wearing chapter kilts - a feat that not many chapters can pull off.
Following the installation, the Majority Service was performed for 4 of the chapters new Senior DeMolays, Karl Parks, Javier Rosario, Jamil Newson, and Mario Scherer. Dads Kirk Troffatter, Jona…
---
A Walk for a Cause
October 12, 2014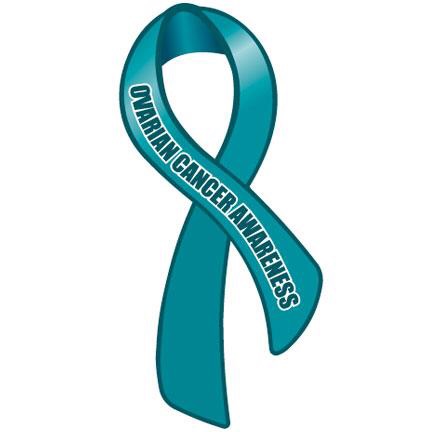 On a crisp autumn morning, Sunday, October 12, 2014, State Master Councilor, Nicholas Carpenter and a few of the State Suite officers headed to the Litchfield hills for a good cause.
Hope Assembly #46 of the International Order of Rainbow for Girls hosted a walk in support of Ovarian Cancer, a cause close to their hearts, as one of the Advisors of the Assembly has been diagnosed with this disease. Mom Darlene Aubin was the chief organizer for the event, Ephraim Kirby Chapter, of the Orde…
---
Carpenters Honored in Milford
October 11, 2014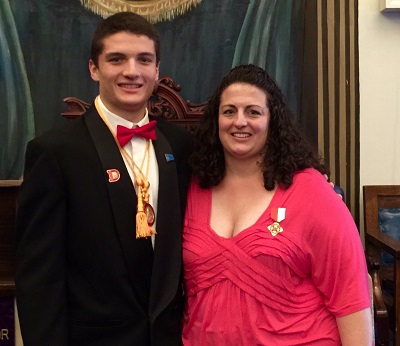 Saturday afternoon, October 11th, State Master Councilor Nicholas S. Carpenter and his mother Mom Susan Carpenter were honored with the Chevalier and Cross of Honor Investitures.
Until a recent job promotion, Mom Carpenter has served Milford Chapter as Scribe since the chapter's resurrection in 2007 - managing to keep the chapter calendar, minutes, registrations and even advisors in order. She has served Connecticut DeMolay during this time as well, managing the calendar, website, D…
---
Advanced JO Training
By Nicholas Carpenter
October 04, 2014

As if JO training at LTC wasn't enough! This past weekend, State Officers from Connecticut, New Hampshire, and Massachusetts all converged at The Overlook in Charlton, Massachusetts to undergo even more jurisdictional officer training. This program was designed to go beyond even LTC's lessons to further help us DeMolays run our states effectively. Needless to say, it was met with great success and enthusiasm.
Under the guidance of Dads Abbot and Rooney, from Massachusetts, and Dad Need…
Upcoming Events
Traveling Gavel
June 24, 2014 to November 30, 2014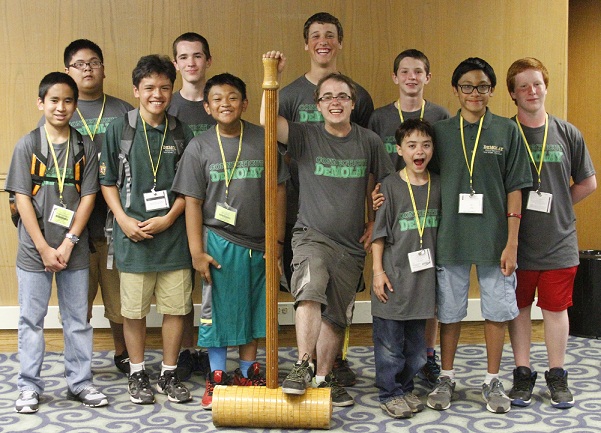 The Traveling Gavel is now with Nathan Hale Chapter.
If your chapter would like to claim the gavel, bring 5 chapter members to a stated meeting for a visitation.
10 Mason Drive,
New Britain, CT 06052
2nd & 4th Sundays

Read more...
---
Chapters Installing Officers
Upcoming ceremonies around CT DeMolay
August 10, 2014 to December 31, 2014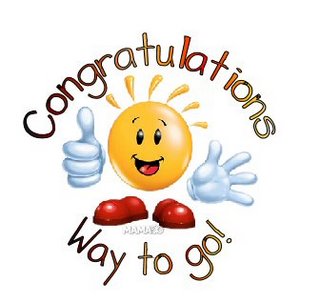 A few chapters across Connecticut will be having newly elected and appointed officers installed by the State Master Councilor and his Suite.
The chapters and the dates are as follows:
Doric Chapter - November 14, 2014 at 1pm -

531...
Read more...
---
March 2 Success
August 29, 2014 to December 31, 2014
Helping Members Succeed!
How well a person does on a standardized test can have a great impact on their future. March 2 Success was developed as a free, no obligation tool to help anyone improve their test scores in the areas of English, Math and Science. March-2-Success is designed for a current or recently graduated high school student who wants to do better on standardized tests such as SAT, ACT, and the ASVAB.
The Army has made this program available to members...
Read more...