Milford Chapter Ice Cream Social
July 15, 2014
---
William Campbell Medals Awarded
July 13, 2014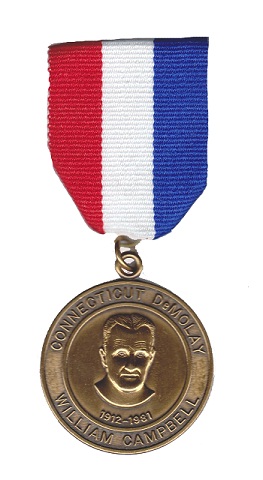 The William Campbell Medal was struck in 1983 to commemorate the life of service that Dad Campbell gave to the Order of DeMolay, and his pride for all the members and advisors in DeMolay. Dad Campbell was a Past Master Councilor of Bridgeport Chapter, Past State Junior Councilor, Active Member of the International Supreme Council of the Order of DeMolay, Past Executive Officer in Connecticut and Most Worshipful Past Grand Master of Masons in Connecticut. He was a sour…
---
84th Annual Conclave Closes
July 11-13 2014
July 13, 2014

Conclave 2014 is in the past...
With a rap of his gavel, the 84th Annual Connecticut DeMolay Conclave was declared closed by new State Master Councilor Nicholas S. Carpenter on Sunday July 13, 2014.
Conclave was deemed a success by many who attended. We saw much competition, much chapter enthusiasm, much chapter spirit, but most of all we saw much DeMolay Comradeship.
Connecticut DeMolay was proud to host the Most Worshipful Grand Master of Masons in Conne…
---
DeMolay & Advisors of the Year
July 13, 2014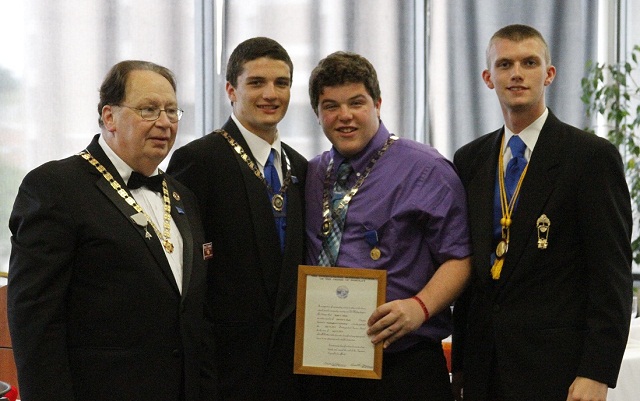 Towards the conclusion of the 84th Annual Connecticut DeMolay Conclave, Executive Officer Dad Harry E. Needham III, with assistance of Immediate Past State Master Councilor James P. Cavanaugh II, presented Brother Ryan Wenz with the Distinguished Service Award (DeMolay of the year) for the 2013-2014 year.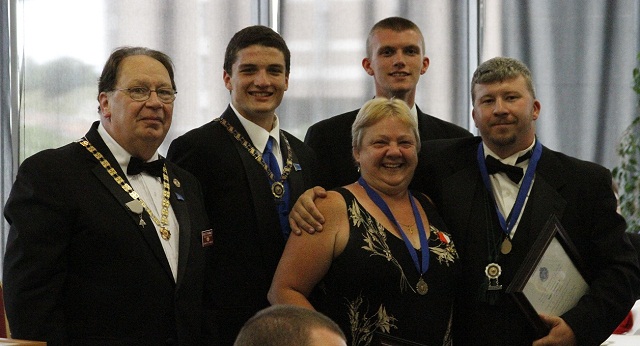 Also, Dad Needham, presented Mom Kathy Mallory & Dad Kirk C. Trofatter, Jr with the Guild of the Leather Apron (Advisor of the Year).
Congratu…
---
State Chapter Installs New Officers
2014-2015
July 13, 2014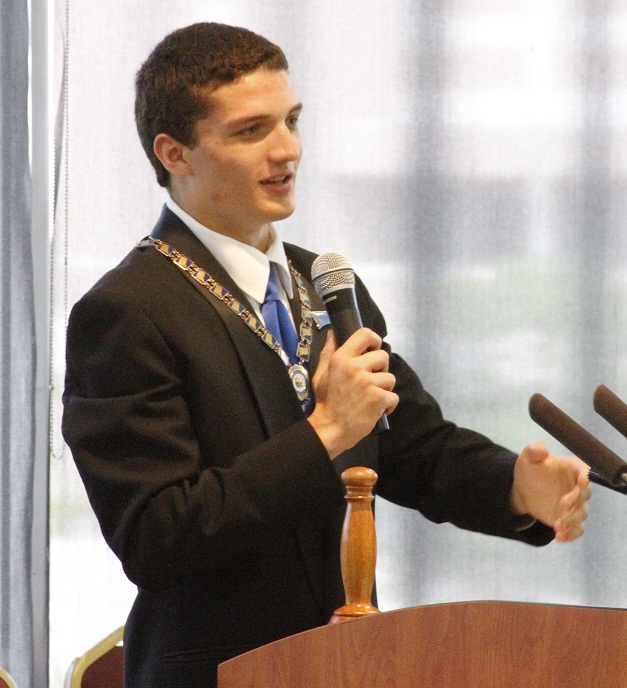 Sunday July 13, 2014, in the midst of the 84th Annual CT DeMolay Conclave, Brother Nicholas S. Carpenter, a Chevalier (designee), Blue Honor Key holder and PMC (Milford Chapter) was Installed as the State Master Councilor of Connecticut DeMolay for the 2014-2015 year.
Brother Andrew Birdsall, Chevalier, PMC of Sleeping Giant Chapter was installed Deputy State Master Councilor.
Brother David Cavanaugh, a PMC of Sleeping Giant Chapter, was installed State Senior Councilor.
Brother Z…
---
Supreme Council Honors Designates
Elected at Kansas City DeMolay Session
July 13, 2014


Connecticut DeMolay has been blessed with many people who have worked hard for our jurisdiction over the years. The following individuals have been recognized this year for their continued efforts on behalf of our Order, our Jurisdiction, and our Chapters: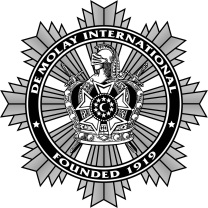 Dep
uty Member of the International Supreme Council:
Dad Arthur W. Stauff, Active Legion of Honor, Chevalier, PSMC 79-80, William Campbell Medal Recipient, Past Grand Commander of the CT Court of Chevaliers, Captain (U.S…
Upcoming Events
Region 1 Conclaves for 2014
April 01, 2014 to August 08, 2014
Conclave dates around the Region for 2014 have been announced! The following dates and locations are tentativelyconfirmed locations for each jurisdiction's annual Conclave:
Vermont: May 30-June 1, Hosmer Point Camp, Craftsbury Common, VT
Maine: June 27-29, Colby College, Waterville, ME
Connecticut: July 11-13, Central CT State University, New Britain, CT
Atlantic Provinces: July 25-27, Moncton, NB (Canada)
Massachusetts: August 8-10, Nichols...
Read more...
---
Traveling Gavel
June 24, 2014 to September 29, 2014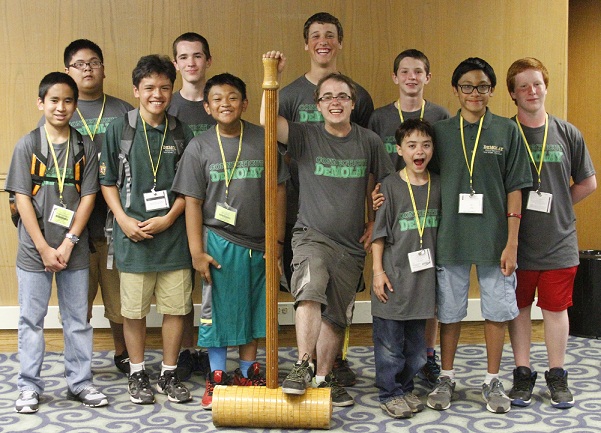 The Traveling Gavel is now with Nathan Hale Chapter.
If your chapter would like to claim the gavel, bring 5 chapter members to a stated meeting for a visitation.
10 Mason Drive,
New Britain, CT 06052
2nd & 4th Sundays

Read more...
---
LTC 2014
July 31, 2014 to August 06, 2014

Leadership Training Conference
​ (LTC)​
is
a
flagship event for Region 1 DeMolay. Over the decades, LTC has been revolutionizing the way our members think about DeMolay. Over the span of seven days and six nights, DeMolays from across New England and Atlantic Provinces will come together to grow their knowledge and skills in becoming leaders as DeMolays, in the Chapters, and throughout their jurisdictions.
Read more...